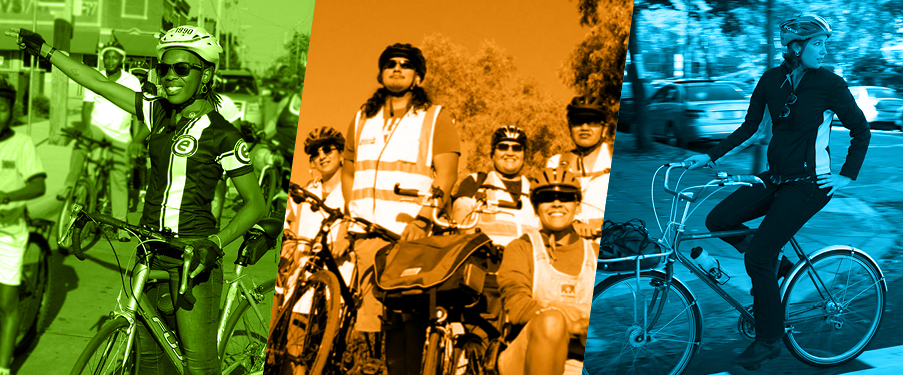 FAQs
How do I login?
Users can login to the site by clicking the "Login" button. If you do not have a login, click on "Create Account." You will be sent an email to verify your account information and can login after verification.
Does the Smart Cycling Exam qualify as the prerequisite for the League Cycling Instructor seminar?
The exam fulfills the prerequisite for the in-class portion of the Smart Cycling Complete class. Candidates must receive an 85% or better score on the exam to qualify. Candidates must ALSO complete the on-bike portion of the Smart Cycling Complete class with a current LCI. You can find a class or an LCI to offer you a class through the League's Connect Locally Map.
How do I take an on-bike class?
People wanting to take a hands-on, on-bike class can locate a class in your area by multiple ways:
- Check the League's Connect Locally Map for classes in your area
- If you cannot locate a class, contact your local advocacy organization or club to inquire about a future class.
- Try contacting a local LCI (also listed on the map) to see if they can offer you a class.
What is Traffic Skills 101?
Traffic Skills 101 is the former name of the Smart Cycling Complete class. You will often still see people using the outdated term. The Smart Cycling Complete Class consists of Basic, Intermediate, and Advanced topics as well as bike handling skills, avoidance maneuvers, and riding in traffic.
Are there bike education resources I can distribute in my community?
The League of American Bicyclists has an abundance of bike education materials for you to use in your community. Check out our Video Library, Safety Tips and Resources, and Materials for Purchase.
What is a League Cycling Instructor (LCI)?
League Cycling Instructors (LCIs) are ambassadors for better biking through education. After earning certification through a 3-day, League Coach-led seminar, LCIs teach Smart Cycling classes to children as well as adults. Their goal is to help people feel more secure about getting on a bike, to create a mindset that bikes are treated as a vehicle, and to ensure that people on bikes know how to ride safely and legally.
How do I become a League Cycling Instructor (LCI)?
Steps to become an LCI:
Successfully pass the Smart Cycling Complete class with a score of 85% or better. The Complete class consists of classroom instruction and on-bike handling skills. Students may complete the Smart Cycling exam through this system or in-person with an LCI. The candidate must successfully complete the class at least three weeks prior to the LCI seminar.
Register for an LCI Seminar. A list of upcoming seminars can be found here. The registration rate is $500 per candidate. The rate increases to $575 four weeks prior to the seminar. Registration closes three weeks prior to the first day of the seminar. Contact the local host of the seminar (listed on the registration page) to learn more about scholarship opportunities.
Attend and successfully pass the LCI seminar. The LCI seminar is a three day intense training to learn how to effectively teach the Smart Cycling curriculum. Attendance does not guarantee becoming an instructor, however, everyone who attends comes away with increased knowledge of bicycle safety instruction and will eventually be certified if you put in the effort and time. Learn more about the seminar here.
| Access Date | Quiz Result | Score | Actions |
| --- | --- | --- | --- |